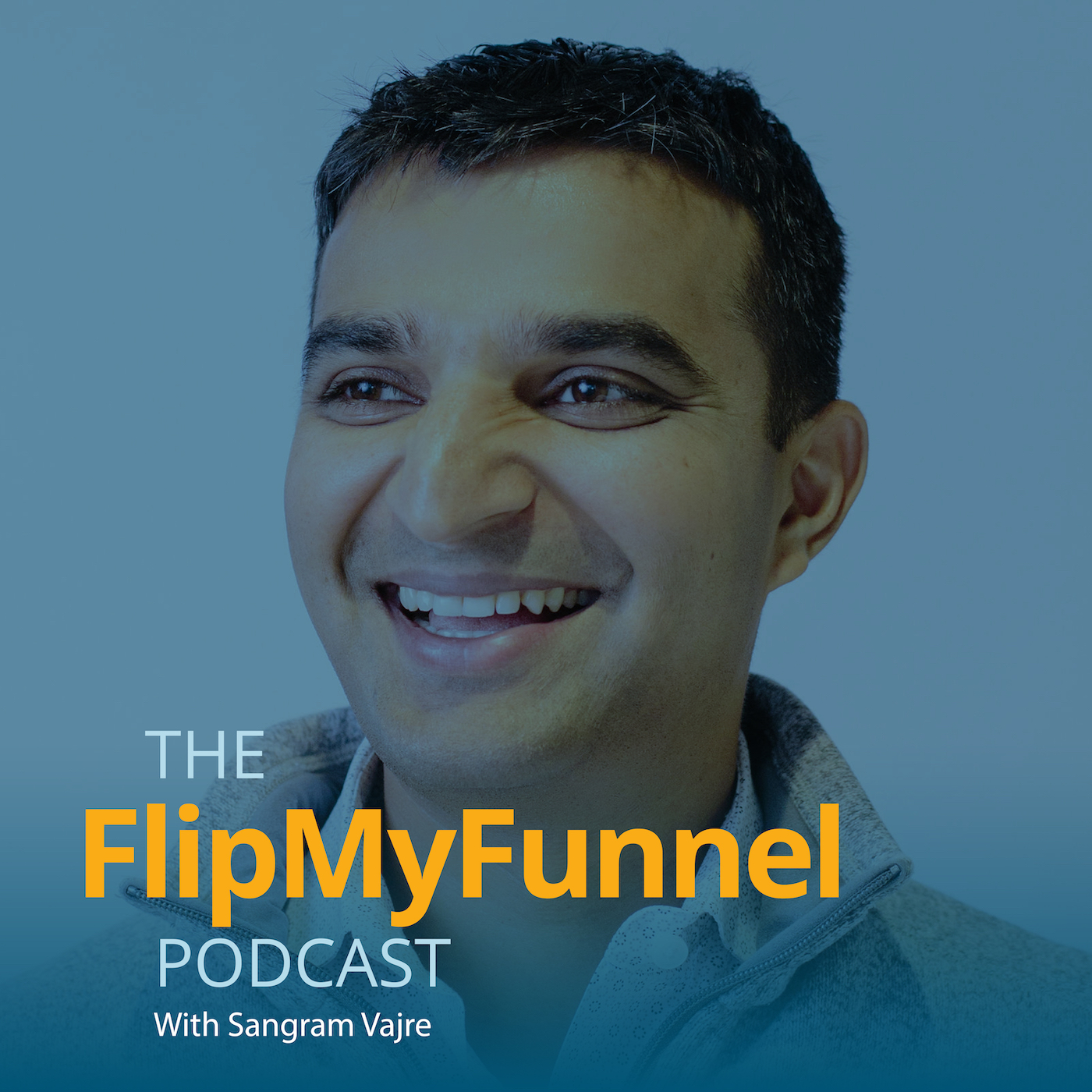 Episode 447  |  25:15 min
449: Why Every Leader Should Have Lunch With Their Sales Team w/ Erik Smith
Episode 447  |  25:15 min  |  11.04.2019
449: Why Every Leader Should Have Lunch With Their Sales Team w/ Erik Smith
This is a podcast episode titled, 449: Why Every Leader Should Have Lunch With Their Sales Team w/ Erik Smith. The summary for this episode is: <p><span style="font-weight: 400;">Today, on the</span> <a href= "https://podcasts.apple.com/us/podcast/the-flipmyfunnel-podcast/id1155097337"> <span style="font-weight: 400;">#FlipMyFunnel podcast</span></a> <span style="font-weight: 400;">we're joined by</span> <a href= "https://www.linkedin.com/in/erikarchersmith/"><span style= "font-weight: 400;">Erik Smith</span></a><span style= "font-weight: 400;">. </span></p> <p><span style="font-weight: 400;">And as much as I want to dive into ABM with Erik, he has such an interesting perspective to offer on career growth, leadership, and personalization that I felt discussing those topics would be a super valuable experience for you all.</span></p> <p><strong>So, here's what we're unpacking today:</strong></p> <ul> <li style="font-weight: 400;"><span style="font-weight: 400;">How Erik achieved such a unique career path</span></li> <li style="font-weight: 400;"><span style="font-weight: 400;">Why all marketers should at least be able to demo a product</span></li> <li style="font-weight: 400;"><span style="font-weight: 400;">Why you should be having lunch with millennials</span></li> <li style="font-weight: 400;"><span style="font-weight: 400;">And 3 characteristics you should look for in new hires</span></li> </ul> <p><strong>Resources we talked about:</strong></p> <ul> <li style="font-weight: 400;"><a href= "https://www.linkedin.com/in/erikarchersmith/"><span style= "font-weight: 400;">Erik's LinkedIn</span></a></li> <li style="font-weight: 400;"><span style= "font-weight: 400;"><a href= "https://www.salesforce.com/content/dam/web/en_us/www/documents/briefs/customer-trust-trends-salesforce-research.pdf"> The Trends in Consumer Trust Report</a></span></li> </ul> <p><em><span style="font-weight: 400;">This is a #FlipMyFunnel podcast. Check us out</span></em> <a href= "https://itunes.apple.com/us/podcast/156-how-to-break-out-sales-obscurity-by-leveraging/id1155097337?i=1000417280289&mt=2"> <em><span style="font-weight: 400;">on Apple Podcasts</span></em></a><em><span style= "font-weight: 400;">,</span></em> <a href= "https://open.spotify.com/show/6eUjrycMz5QTHHW6nee2Ao"><em><span style="font-weight: 400;"> Spotify</span></em></a><em><span style="font-weight: 400;">, or</span></em> <a href= "https://flipmyfunnel.com/podcast/"><em><span style= "font-weight: 400;">here</span></em></a><em><span style= "font-weight: 400;">.</span></em></p> <div class= "product-hero-desc product-hero-desc--spacer-bottom-large"> <p dir="ltr" data-test-bidi="">Call me crazy but here's what I am doing - Text ABMisB2B to 33777 to receive a copy of Sangram's newest book.</p> <p dir="ltr" data-test-bidi="">This is gift to YOU as a listener for a limited time! All I ask is for a review of the book on Amazon when you are done reading. Deal?</p> </div>
Today, on the #FlipMyFunnel podcast we're joined by Erik Smith. 
And as much as I want to dive into ABM with Erik, he has such an interesting perspective to offer on career growth, leadership, and personalization that I felt discussing those topics would be a super valuable experience for you all.
So, here's what we're unpacking today:
How Erik achieved such a unique career path

Why all marketers should at least be able to demo a product

Why you should be having lunch with millennials

And 3 characteristics you should look for in new hires
Resources we talked about:
This is a #FlipMyFunnel podcast. Check us out on Apple Podcasts, Spotify, or here.
Call me crazy but here's what I am doing - Text ABMisB2B to 33777 to receive a copy of Sangram's newest book.
This is gift to YOU as a listener for a limited time! All I ask is for a review of the book on Amazon when you are done reading. Deal?