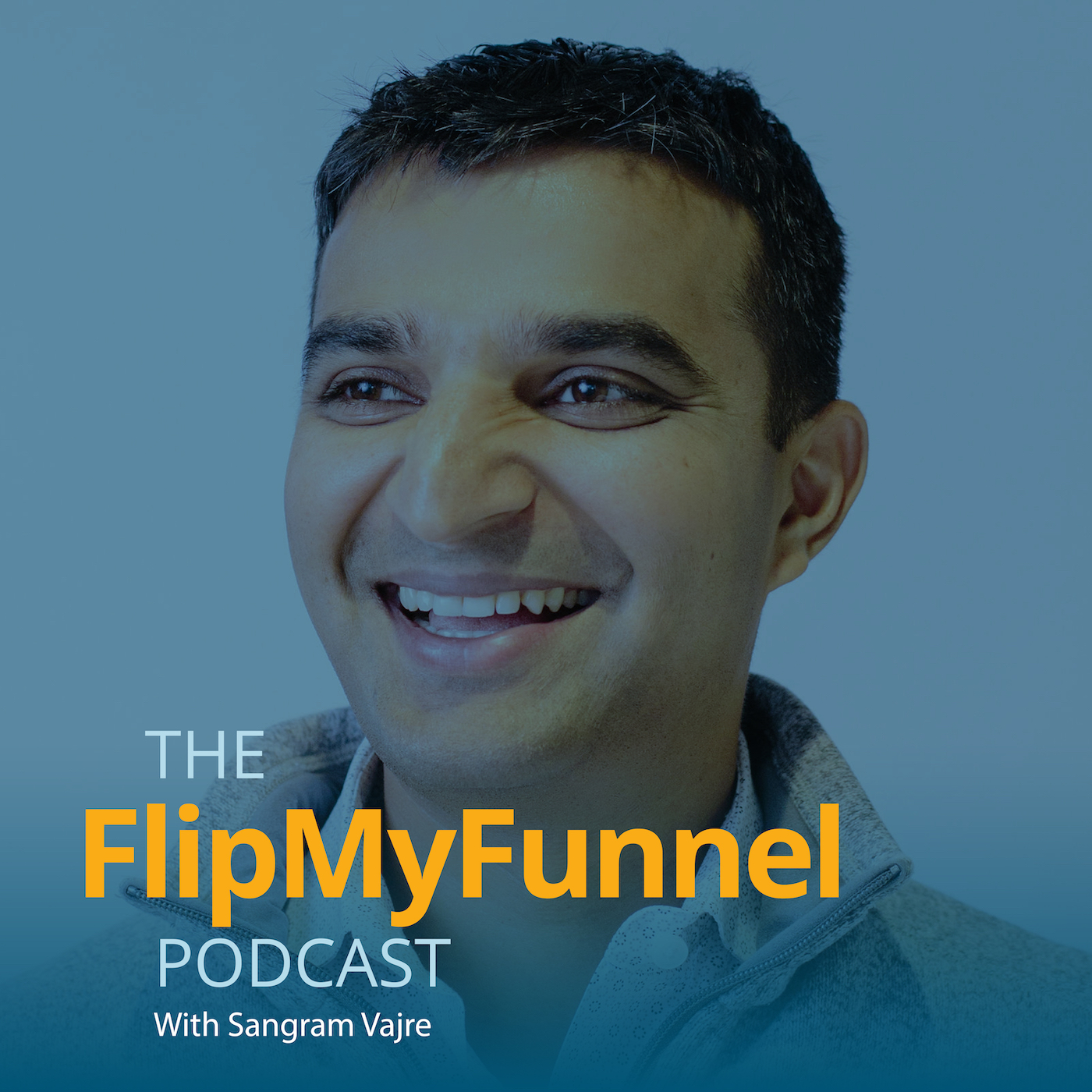 Episode 235  |  20:48 min
236: "Stop Giving So Many CTAs" & 2 Other B2B Hacks You Can't Live Without w/ Randy Frisch, Katie Cantwell, and Tyler Lessard
Episode 235  |  20:48 min  |  08.27.2019
236: "Stop Giving So Many CTAs" & 2 Other B2B Hacks You Can't Live Without w/ Randy Frisch, Katie Cantwell, and Tyler Lessard
This is a podcast episode titled, 236: "Stop Giving So Many CTAs" & 2 Other B2B Hacks You Can't Live Without w/ Randy Frisch, Katie Cantwell, and Tyler Lessard. The summary for this episode is: <p><span style="font-weight: 400;">We talk a lot about using marketing and sales tactics that re-humanize B2B and make it personal.</span></p> <p><span style="font-weight: 400;">This episode isn't just a one scoop of B2B sales and marketing tactics. It's the full ice cream sundae. Three phenomenal guest speakers gave a fast-fire panel from our</span> <a href= "https://flipmyfunnel.com/2018-flipmyfunnel-conference/" target= "_blank" rel="noopener"><span style= "font-weight: 400;">#FlipMyFunnel Conference</span></a><span style= "font-weight: 400;">, and we have it all right here.</span></p> <p><span style="font-weight: 400;">They offered simple, down-to-Earth, best sales and marketing practices you can use</span> <em><span style="font-weight: 400;">today, at the office, right now.</span></em></p> <p><span style="font-weight: 400;">They each unpacked their version of re-humanizing B2B, talked about video, AI, and how to equip your entry-level employees.</span></p> <p><span style="font-weight: 400;">Don't miss this buffet of thought leadership.</span></p> <p><a href="https://www.linkedin.com/in/katie-cantwell" target= "_blank" rel="noopener"><em><span style="font-weight: 400;">Katie Cantwell</span></em></a> <em><span style="font-weight: 400;">— Director of Sales at</span></em> <a href="https://www.showpad.com/" target="_blank" rel="noopener"><em><span style= "font-weight: 400;">Showpad</span></em></a><em><span style= "font-weight: 400;">. Previously, Director of Sales at Oracle, and Owner of Loyalty at Audi.</span></em></p> <p><a href="https://www.linkedin.com/in/tylerlessard/" target= "_blank" rel="noopener"><em><span style="font-weight: 400;">Tyler Lessard</span></em></a> <em><span style="font-weight: 400;">— Fearless 50 Marketer and VP of Marketing at</span></em> <a href= "https://www.vidyard.com/" target="_blank" rel= "noopener"><em><span style= "font-weight: 400;">Vidyard</span></em></a><em><span style= "font-weight: 400;">.</span></em></p> <p><a href="https://www.linkedin.com/in/frischrandy/" target= "_blank" rel="noopener"><em><span style="font-weight: 400;">Randy Frisch</span></em></a> <em><span style="font-weight: 400;">— Co-founder, CMO, and president of</span></em> <a href= "https://www.uberflip.com/" target="_blank" rel= "noopener"><em><span style= "font-weight: 400;">Uberflip</span></em></a><em><span style= "font-weight: 400;">.</span></em></p> <p><em><span style="font-weight: 400;">The moderator for this panel was the rockstar</span></em> <a href= "https://www.linkedin.com/in/perkinsbob" target="_blank" rel= "noopener"><em><span style="font-weight: 400;">Bob Perkins</span></em></a><em><span style="font-weight: 400;">, founder and chairman of the</span></em> <a href= "https://www.aa-isp.org/" target="_blank" rel= "noopener"><em><span style= "font-weight: 400;">AA-ISP</span></em></a> <em><span style= "font-weight: 400;">(American Association of Inside Sales Professionals).</span></em></p>
We talk a lot about using marketing and sales tactics that re-humanize B2B and make it personal.
This episode isn't just a one scoop of B2B sales and marketing tactics. It's the full ice cream sundae. Three phenomenal guest speakers gave a fast-fire panel from our #FlipMyFunnel Conference, and we have it all right here.
They offered simple, down-to-Earth, best sales and marketing practices you can use today, at the office, right now.
They each unpacked their version of re-humanizing B2B, talked about video, AI, and how to equip your entry-level employees.
Don't miss this buffet of thought leadership.
Katie Cantwell — Director of Sales at Showpad. Previously, Director of Sales at Oracle, and Owner of Loyalty at Audi.
Tyler Lessard — Fearless 50 Marketer and VP of Marketing at Vidyard.
Randy Frisch — Co-founder, CMO, and president of Uberflip.
The moderator for this panel was the rockstar Bob Perkins, founder and chairman of the AA-ISP (American Association of Inside Sales Professionals).