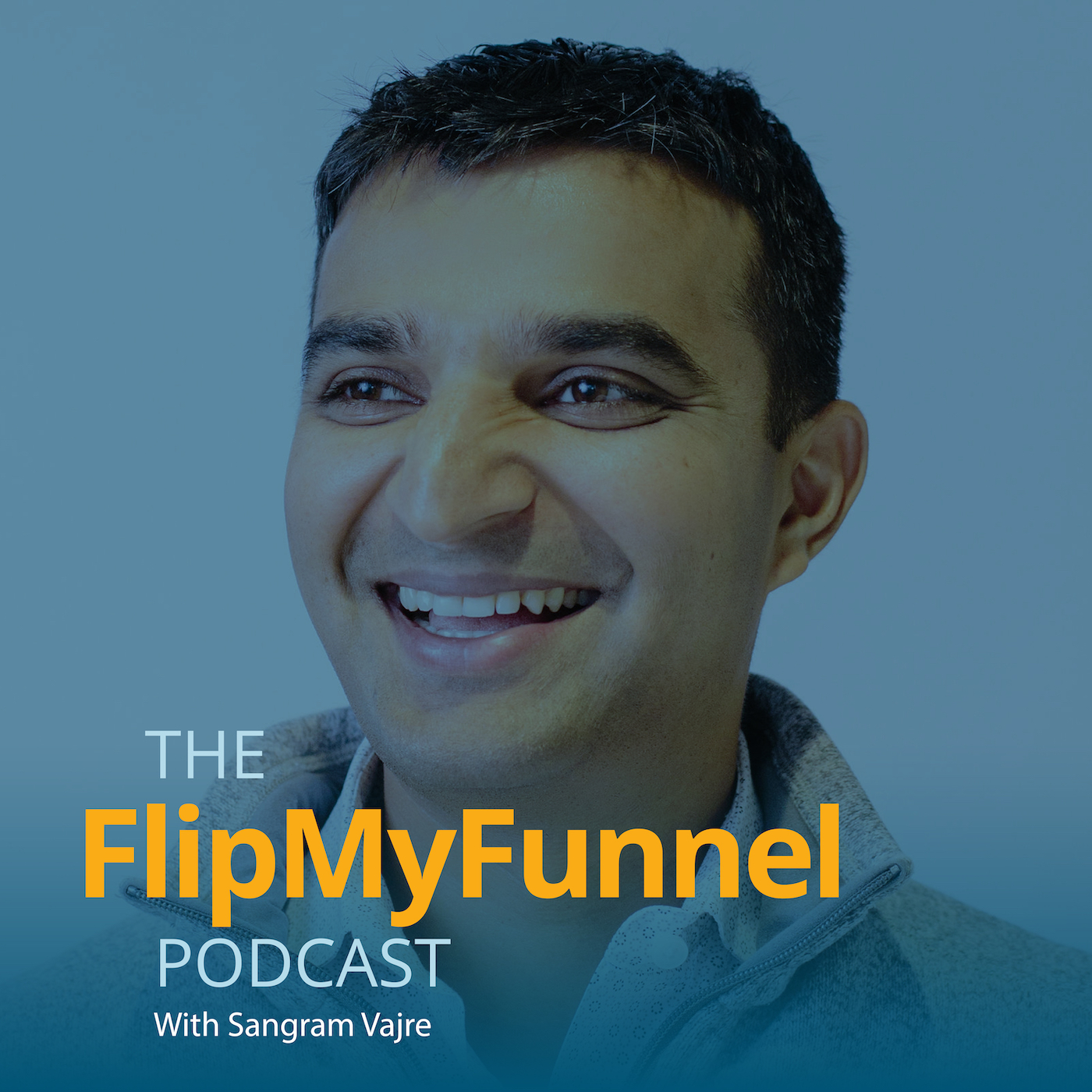 Episode 601  |  58:04 min
606. No Bullsh*t Approach to Buyer Personas
Episode 601  |  58:04 min  |  05.13.2020
606. No Bullsh*t Approach to Buyer Personas
This is a podcast episode titled, 606. No Bullsh*t Approach to Buyer Personas. The summary for this episode is: <h3><span style="font-size: 12pt;"><span style= "font-weight: 400;">Our very special guest host Casey Chesire of</span> <em><span style="font-weight: 400;">The Hardcore Marketing Show</span></em> <span style="font-weight: 400;">takes over the Flip My Funnel Podcast today! </span></span></h3> <h3><span style="font-weight: 400; font-size: 12pt;">Casey lives up to his reputation for fun conversations with the smartest, most badass marketers out there while interviewing author and industry expert, Adele Revella about her No BS approach to buyer personas.</span></h3> <p><span style="font-weight: 400;">By throwing out many of things we thought we knew about how to develop a buyer persona, Adele shares her methods for getting the answers you actually need to market to your buyer effectively. </span></p> <p><span style="font-weight: 400;">They explored:</span></p> <ul> <li style="font-weight: 400;"><span style="font-weight: 400;">The 2 biggest myths about knowing your buyers</span></li> <li style="font-weight: 400;"><span style="font-weight: 400;">Why it is not enough to simply have a picture and a name for a Buyer Persona</span></li> <li style="font-weight: 400;"><span style="font-weight: 400;">How to interview your buyers effectively</span></li> <li style="font-weight: 400;"><span style="font-weight: 400;">Why demographics are rarely as important as you think</span></li> <li style="font-weight: 400;"><span style="font-weight: 400;">Adele Revella's new book:</span> <a href= "https://www.amazon.com/Buyer-Personas-Customers-Expectations-Strategies/dp/1118961501"> <em><span style="font-weight: 400;">Buyer Personas</span></em></a></li> </ul> <p> </p> <p><em><span style="font-weight: 400;">If you have a question, join the discussion on</span></em> <a href= "https://www.instagram.com/hardcorpsmarketingshow/?hl=en"><em><span style="font-weight: 400;"> Instagram.</span></em></a></p> <p><em><span style="font-weight: 400;">This special takeover episode of</span></em> <a href= "https://flipmyfunnel.com/podcast/"><em><span style= "font-weight: 400;">Flip My Funnel</span></em></a> <em><span style= "font-weight: 400;">is hosted by</span></em> <a href= "https://www.linkedin.com/in/caseycheshire/"><em><span style= "font-weight: 400;">Casey Chesire</span></em></a><em><span style= "font-weight: 400;"> </span></em> <em><span style= "font-weight: 400;">Marine, Author, Adventurer, Founder of</span></em> <a href= "https://www.linkedin.com/in/caseycheshire/"><em><span style= "font-weight: 400;">Cheshire Impact</span></em></a> <em><span style="font-weight: 400;">and Host of:</span></em> <span style="font-weight: 400;">Hard Corps Marketing.</span></p> <p><span style="font-weight: 400;">---------</span></p> <p class="p1">Join me for weekly special LinkedInLive sessions where I interview your favorite guests like Pat Lencioni,  Seth Godin, Whitney Johnson, Kim Scott LIVE.</p> <p class="p1">Here's the one-click invite: <a href= "https://evt.mx/mSGV4Ka8"><span class= "s1">https://evt.mx/mSGV4Ka8</span></a></p>
Our very special guest host Casey Chesire of

The Hardcore Marketing Show

takes over the Flip My Funnel Podcast today! 
Casey lives up to his reputation for fun conversations with the smartest, most badass marketers out there while interviewing author and industry expert, Adele Revella about her No BS approach to buyer personas.
By throwing out many of things we thought we knew about how to develop a buyer persona, Adele shares her methods for getting the answers you actually need to market to your buyer effectively. 
They explored:
The 2 biggest myths about knowing your buyers

Why it is not enough to simply have a picture and a name for a Buyer Persona

How to interview your buyers effectively

Why demographics are rarely as important as you think

Adele Revella's new book:

Buyer Personas
If you have a question, join the discussion on Instagram.
This special takeover episode of Flip My Funnel is hosted by Casey Chesire  Marine, Author, Adventurer, Founder of Cheshire Impact and Host of: Hard Corps Marketing.
---------
Join me for weekly special LinkedInLive sessions where I interview your favorite guests like Pat Lencioni,  Seth Godin, Whitney Johnson, Kim Scott LIVE.
Here's the one-click invite: https://evt.mx/mSGV4Ka8