IndyCar Engineer Angela Ashmore Hopes Next Giant Leap is an Indy 500 Win
This is a podcast episode titled, IndyCar Engineer Angela Ashmore Hopes Next Giant Leap is an Indy 500 Win. The summary for this episode is: <p>In this episode of "This Is Purdue," we're talking to IndyCar engineer Angela Ashmore.&nbsp;&nbsp;</p><p><br></p><p>Angela, an engineer for Chip Ganassi Racing's No. 8 Huski Chocolate Honda, is a lifelong motorsports fan. Her giant leap into professional racing came after relentless persistence and perseverance.&nbsp;</p><p><br></p><p>Listen in as Angela discusses her experience with Purdue's Formula Society of Automotive Engineers (SAE) student club, how the problem-solving techniques she learned at Purdue's School of Mechanical Engineering helped propel her career and a shift from working in NASCAR to IndyCar.&nbsp;&nbsp;</p><p><br></p><p>Also, hear why Marcus Ericsson, IndyCar driver for CGR's No. 8 Huski Chocolate Honda, believes Angela serves as a role model for other women in STEM and the professional motorsports world.&nbsp;&nbsp;</p><p><br></p><p>As for Angela's next giant leap? She's aiming for an Indianapolis 500 win!&nbsp;</p>
Kate Young: Hi, I'm Kate Young, and you are listening to This is Purdue, the official podcast for Purdue University. As a Purdue alum and Indiana native, I know firsthand about the family of students and professors who are in it together, persistently pursuing and relentlessly rethinking. Who are the next game changers, difference makers, ceiling breakers, innovators? Who are these Boilermakers? Join me as we feature students, faculty, and alumni taking small steps toward their giant leaps and inspiring others to do the same.
Angela Ashmore: This year is going to be my first full fledged Indy 500 as a participant. The excitement is palpable, just all of the pomp and circumstance and like cheering back home in Indiana and like the pretty marching band coming and doing the walk down pit lane, all of that stuff is just like an entire day of build up.
Kate Young: It's officially May in Indiana. The weather is finally starting to warm up and race fans far and wide are preparing for a little race called the Indianapolis 500. From Purdue University's all American marching band serving as the host band of the race since 1919 to the 500 Festival Princess program, right down to the milk that the winner drinks, Purdue's involvement in the Indy 500 can be seen through a variety of traditions on race day and in the 500 Festival Foundation activities leading up to it. 2022 marks the 106 year for this legendary 500 mile race, and we're proud to say multiple Purdue University alums are heavily involved in the greatest spectacle in racing. One of these alums is NTT IndyCar Series engineer, Angela Ashmore, who received both her Bachelor's and Masters in Mechanical Engineering at Purdue. As an engineer for Chip Ganassi Racing's No. 8 Huski Chocolate Honda, Angela works on collecting and analyzing data from the car for IndyCar driver Marcus Ericsson. Angela isn't someone who just happened to get into the professional motor sports world. She's a lifelong race fan. I ask her about when she first fell in love with racing.
Angela Ashmore: I have a very distinct memory of being pretty young, like maybe five years old, and our local track was Berlin Raceway up in Michigan. I was there with my dad, and I'm sure my mom was there too, but I specifically remember my dad being there. He helped me out the steps, and I remember it being very scary because there were these big gaps in between the steps and he was helping me climb up and we sat down and he had bought these Gargoyles sunglasses, which were popular at the time because Dale and her had Gargoyles sunglasses. He picked me up to put me on his lap so we could watch, and his sunglasses fell off his head and somebody stole them.
Kate Young: Not only were Angela and her dad big race fans, they were also fans of the late legendary NASCAR driver, Dale Earnhardt.
Angela Ashmore: Oh yeah. It was like border line obsession, like really obsessed with him. He was easily my favorite driver.
Kate Young: Why was he your favorite driver out of all the other drivers?
Angela Ashmore: I guess because my dad liked him. We just had that in common. I kind of picked up my love for racing from my dad. And so it was a common interest we had. I saw him rooting for Dale, so I did too.
Kate Young: So we knew that Angela loved racing growing up. But at what point did she realize that she could turn her love of cars and motor sports into an actual career?
Angela Ashmore: I equate my want of being a driver to most little kids when they're like,"I want to be a fireman. I'm going to be president. I'm going to be a doctor." Like I wanted to be involved in racing. I knew I really loved it. And then once I started to get older, I started to understand what I was good at, what I enjoyed. And that's kind of when I started thinking about, okay, well, what can I actually do with the things that I like and I'm good at, which are math and science, and how can I apply that to something I like so that I can work in this field that I like doing something that I'm good at. And so that's kind of how I ended up going down this race engineering path because engineering was a natural fit for me and motor sports was the field that I wanted to be in.
Kate Young: Yeah. A lot of people aren't that lucky. They have the passions but that doesn't necessarily mean that they'll get to spend their whole career being around their passions. Were you in high school when you realized that you could really pursue motor sports as a career or when did that click?
Angela Ashmore: Early in high school, I thought," Well, I'm good at math, I'm good at science. What can I do with those?" And I thought of traditional things like accounting or like maybe a major in physics, and I didn't really grasp what engineering was or what engineers did because the field is so broad. And as an engineer, you can do so many different things. And it didn't even really occur to me that engineering was a path until my dad said... We had a sit down when I was maybe a junior in high school and he asked," What do you think you're going to do realistically in college? What are you going to major in?" And I said," I really don't know. I just know I like math." He was the one who said," You should really think about engineering. I think you'd be a natural fit. It would be great for you." I don't think I questioned it after that point. I did a little research and understood a little more about what the field was and...
Kate Young: Here you are.
Angela Ashmore: Yeah.
Kate Young: Angela grew up outside of Grand Rapids, Michigan. And as you may know, there's another Big 10 school well known for engineering in Michigan. Well, how did she find out about Purdue, and what was it like for Angela, the valedictorian of her high school, that first year in another state away from her family and friends and attempting to keep up with the challenging coursework of a first year engineering student?
Angela Ashmore: I got a flyer in the mail. I showed my dad and I was like," Wow, wouldn't it be really cool if I could actually go here." I didn't really think at the time that it was possible. I just thought for sure since I was young that I was going to go to University of Michigan because it was a great engineering school. Purdue wasn't even on my radar. And when we went and started visiting colleges, the first step on campus, I just fell in love and I knew that was where I had to go. I had to be at Purdue.
Kate Young: What was it like your first year? You're away from home for the first time and you're trying to immerse yourself in Purdue's culture and go to all these classes. What types of steps did you have to take to really buckle down and know that you were on the right track?
Angela Ashmore: I think I was in shock after my first year because I was used to being the best student. I was valedictorian, school was always easy for me. I never really had to try that hard and I was so good at it. And then I got to Purdue and it was really, really hard. I suddenly wasn't the smartest person there and I had to study and I had to try really hard to do just okay. Yeah, it was a shock, but my competitive nature kind of kicked in and I was like, okay, well, either I buckle down and study harder and figure out how to do this or I'm not going to be an engineer. And so I just did it.
Kate Young: I can tell that Angela's time at Purdue still means so much to her. She discusses how Purdue set her up for success in the professional racing world. What kind of skills did you learn, whether it's inside the classroom or outside the classroom? This is not a typical job, obviously. So how did Purdue kind of tee you up for this?
Angela Ashmore: I mean, the biggest thing I learned in school was how to think, how to problem solve, because that's what I do day in and day out is I get presented with new problems every day and stuff that I am not an expert in, that I don't really have any knowledge on, and I have to figure out, given fine solve, what do I know about the problem? What am I trying to figure out? And how am I going to get there? And that was what my engineering degree gave me was that problem solving technique.
Kate Young: During her time at Purdue, Angela was part of the Society of Automotive Engineers Collegiate Design Series, also known as SAE. In this program, students build their own race cars, which includes a year long design process, manufacturing, testing, and racing against other universities. There are three teams within SAE at Purdue. Angela was on the Formula SAE team where she helped build a single seat Formula- style car with an internal combustion engine. She also learned how to manufacture with carbon fiber and made composite control arms that shaved 10 pounds of weight off the car.
Angela Ashmore: Formula I got involved in I think my sophomore year. I can't remember how I even found it. It was a friend of a friend who was like," Hey, have you heard about Formula? Do you know what it is, because I think you'd be really interested in it." And I was kind of on the fence. And then I was all in as soon as I figured out what it was. It was an excellent experience for me because through your classes, obviously you get all the practical knowledge and the book smarts, but Formula SAE gave me the teamwork aspect. You had to work to a deadline, produce a product. You got to actually compete and put the thing that you made, this race car, to the test against other groups of students who had worked on the same project. So you kind of had a natural grading scale. There's no curve, right? Your car's either fast or it's not. You either designed it well or you didn't. You also learn tangible skills like working machine shop. You learn how to use all the machines, you learn basic mechanical skills, how to use tools, stuff like that. All of those skills were so invaluable. It was really great experience.
Kate Young: Do you have any favorite stories or like one favorite memory?
Angela Ashmore: I believe there was a stretch of time I stayed up for three days straight working on the car.
Kate Young: Before a race or?
Angela Ashmore: Oh yeah, before competition. Yeah, it was in the final stretch and we were kind of a little bit behind schedule.
Kate Young: How did that happen? Just lots of coffee or?
Angela Ashmore: I don't drink coffee. I think we had a thing that year with grape soda.
Kate Young: Oh, okay.
Angela Ashmore: Yeah, we bought it in bulk.
Kate Young: Angela also shares which Purdue professors made a big impact on her college experience.
Angela Ashmore: Professor Carlo Scalo was one of my favorites. I mean, I had a few that I still remember and were really great. Professor Carlo Scalo is like one of the best teachers I've ever had just from the standpoint of making me excited about learning the topic he was teaching and helping me to understand it really well. He was just so good at it. I don't even understand how he did such a good job, but I just loved him as a teacher. And then my professor for Vehicle Dynamics, professor Starkey, he was just so great. I worked with him on my senior design project and he was really flexible and helped us pick a project that was interesting to us and not really traditional and kind of down the racing path. I just really appreciated his tie into the motor sports realm and his appreciation for what I was trying to accomplish with my senior design, not just to do project and check the box, but do something that actually meant something to me.
Kate Young: Angela has now worked for two of the biggest professional racing series in the world, NASCAR and IndyCar. She dives into her career path after graduating from Purdue in 2010.
Angela Ashmore: So straight out of college, I wanted to go into racing. I didn't find an opportunity right away. I did have an opportunity to work in the automotive field, so I got an offer at Chrysler. It was for a rotational program. It offered me a chance to get my master's degree. And it was a really great opportunity, so I took it. One of the great things about that opportunity was that they were lenient with where you got your degree from. So I went through the process and got Purdue approved for the degree program. So I did my master's degree through Purdue while I was working through my rotational program at Chrysler. So after I finished my rotations, then it was time to choose a permanent position. I had a spot lined up at Dodge Motorsports, which was a perfect fit for me. And two months before I was supposed to start that position, the motorsports program shut down. That was a bummer. I had to figure out something else to do. So there's a smaller group of people there that are really passionate about performance vehicles and it's called SRT, Street Racing Technology. Being that it's a small group, it's kind of tough to get in, especially as a newer hire, but I found a spot there in SRT driveline. They took me on. And so that was my next two and a half years. I got to work on the very first Hellcat program, which was the 6. 2 Supercharged. Really awesome. I got to do so many cool things. Like we tested at the racetrack and I got to drive and we tested a lot at the drag strip and I got to drive a lot for that. And so that was all really great experience. And it wasn't really racing though. So fast forward a couple of years, a friend I had got a job at Roush Fenway Racing and he said," I know of another position that's opening up if you're interested." I'm like," Yes. Yeah, yeah, please," because I still really had that passion. I knew I wanted to work in racing no matter what. The position opened up and I applied and they took me on and I worked my way up at Roush Fenway from an assistant to the assistant engineer. I was like a super support role. And then the next year I got moved up to managing that group. And then the next year I got moved up to a race engineer in the Xfinity Series. And then after half a year as a race engineer at Xfinity, I got moved up to a race engineer in the Cup Series. So I just kind of progressed through that. And then after four and a half years there, then I got an opportunity to come here to Chip Ganassi Racing and work in IndyCar, which was an absolute dream. And so I jumped on the opportunity. I was really excited to come back to Indiana, get back to the Midwest, work on a more manageable schedule racing wise. And there was a lot of more technical work that really interested me. So it was a natural fit and I'm so glad that I'm here.
Kate Young: Purdue has ties to space, ties to NASA. A lot of engineers at NASA are Purdue alum. Is there anyone in the racing world that you run into or is there a group of you guys that are engineers?
Angela Ashmore: There are Purdue engineers everywhere. I know it more from the engineering side. I mean, everywhere it's been there's other Purdue engineers and there's a few right here in this building. One of the most popular drivers in NASCAR, Ryan Newman, he's a Purdue grad. Probably the most popular one, at least in the motor sports scene. That's a great thing about Purdue is that wherever you go, there's someone who has that common tie with you. Actually, one of the guys who works here with me is a really good friend and he and I actually did our senior design project together.
Kate Young: Oh cool.
Angela Ashmore: And so we talk about that all the time like," Oh, hey, you remember when we did that?" Yeah.
Kate Young: Angela's husband is also a Boilermaker and also works within IndyCar as an engineer. And their first date story is one for the books.
Angela Ashmore: My husband, Craig, he's a Purdue grad. He is older than me. So we didn't actually go to Purdue at the same time, but we kind of took a similar path. He went through mechanical engineering just as I did. He did Formula SAE just like I did. And then he took a job at Chrysler just like I did. We met through a mutual friend at Chrysler when I was there as an intern. She knew that we were both really into racing. And so we hung out for the first time and went to mid Ohio to an IndyCar race and it poured down rain on us. I guess it was meant to be because both of us had a great time.
Kate Young: Angela is the first to say her job is different every single day. Between race weeks to the off season, to preparing for what many consider the biggest race of all, the Indianapolis 500, none of Angela's days look the same.
Angela Ashmore: My main role is data systems engineer. So there's an electrical box on the car and it collects data from hundreds of sensors, and we have thousands of channels of data. I set the calibrations and the logging rates and collect all that data and write maths to make it usable and distribute that to the other engineers to use. And then I also work on tools to consume that data and make it easier to digest for the people who need to make the decisions.
Kate Young: And how do you work with the driver when it comes to that and how do the team of engineers kind of help I guess the driver digest that too?
Angela Ashmore: So normally the driver will either ask for specific requests for his aids in the car. Anything on the steering wheel or like cockpit controls, I can just change those things directly. But then if it's something about how the car is handling, normally the race engineer will handle those requests. But a lot of times I'll help out with the data analysis side and getting data in front of the driver. So I'll work on things like developing tools so that the driver can get data immediately when he comes into pit lane view. As soon as he stops, he's got data in front of him and he can pull up the data and look at it himself, because as inaudible like a picture's worth a thousand words, well, trying to describe someone what the data looks like and where they're losing time compared to another driver, he can only describe so much. But if you can put it in a visual format, that's easier for them to visually see, okay, here's an Indy compare of here's where I lost time, I'm plus time here, I'm minus time here. It's really easy to see for them. So we can't send data to the car by rule while the car's running. So during practice, we're making those changes on the fly and normally I'm evaluating shift points and drive reaction time and changing like shift flights and shift patterns. If it's things on the steering wheel that he wants different or like lights different or driver alarms for like fuel or limited time or stuff like that, now I can change that stuff really quickly. It'll take me a minute or two and send it to the car while he's in the pits. And then between runs, we can change it. But normally once you set sail on the race, you've got what you've got.
Kate Young: And just like each of her work days are different, each IndyCar race is also different. Here's an example of what Angela works on as she prepares for a race weekend.
Angela Ashmore: So I'll normally spend at least a day on the computer getting the setup ready for the data logger. We're putting in a bunch of constants and motion ratios and suspension geometry, all of these things that help all of these math channels that are running on board calculate correctly. And then as the car's getting put together, I'll come down and plug into the car and do a systems check. So we'll check every sensor on the car, check the nominal voltage, check the calibration and make sure that everything's working correctly, program the steering wheels, just do a once over on everything in the car. Then I'll have a couple days of just preparing data scenarios. I'll spend time doing pre- race strategy, pre- race fuel scenarios. I'll be looking at previous race data, stuff like that. I think a lot of what we do are incremental changes. You don't often change a spring and have the car feel a second faster. Especially when we go to Indy, we're looking for fractions of a mile per hour. And with stuff I work on, there's no obvious upfront gain a lot of times. Working on tools that improve our efficiency, one of the tools I've been working on is the race field program. I've been working on it for I think two years now, just like tweaking and tweaking and tweaking away. But I get into race situations every once in a while where a feature I've added comes into play and it's like, wow, I was able to answer that question really quickly on the spot, and I don't think other teams would be able to do that, and that gives us an advantage. That kind of stuff comes up all the time.
Kate Young: As Angela just mentioned, she also works on fuel strategy for the No. 8 car. She discusses how fuel strategy can impact the result of a race.
Angela Ashmore: Every weekend's a little different. Normally before the weekend, as part of the preparations, I go through and write out a bunch of scenarios that could happen. You've got a lot of options as far as what the driver can do and how much they can save. So if they run full out, let's say you may get like 3.0 miles per gallon. But if they were to lift and coast, which is the strategy, and also run a fuel mixture, which is controlled on the ECU side of things, so the engine, let's say you could get like 3. 8 miles per gallon. So if you run really hard, you're not going to be able to run as long obviously. And if you were to run a more fuel safe strategy, you could run longer. So there's a crossover point where when you're saving fuel, you are giving up lap time to save that fuel. There's a point where you could maybe save a pit stop and only have to pit maybe twice instead of three times, but you might also give up enough lap time saving that amount of fuel where doing one less pit stop doesn't actually save you any time. So you kind of got to go through those options.
Kate Young: Then there's the yellow flag scenario. For all of you racing fans out there, you know how that yellow flag can impact a race. When the yellow flag is waved from the starter stand, it places the race under caution. And why do they wave this caution flag? It signals hazardous conditions on the track and cars must slow down immediately, maintain position and yield to track safety vehicles until the green flag is displayed again. Angela tells us more about the fuel strategy when cars are under a yellow.
Angela Ashmore: So then the other part of that is evaluating the history of yellows at that race, where they fall, how probable they are, because you'll get a lot better mileage under a yellow flag conditions. With the yellow flag strategy, if you assume that you're going to get an average number of yellows, let's say it's 10 laps of yellow, you might gain an extra three or four laps, might make a big difference to your strategy. So if you assume you're going to get some yellows and you can also save maybe three- tenths of a mile per gallon, that might widen up your fuel windows a little bit or it might allow you to make one less stop. There's a lot of what if scenarios that you're just trying to plan for in advance. The preparation for the weekend is taking all those what if scenarios and just having them ready because you can't say what the strategy is going to be for the race until you get to the race because it totally depends on what happens, how fast your car is, how much the tires are falling off. If there's a yellow that falls, where it falls during the race, all those things kind of affect what kind of strategy you have.
Kate Young: And for anyone who thinks people within the IndyCar circuit work really hard during the March through October season, then gets a" chill" during the off season, Angela says that's not the case.
Angela Ashmore: I would say I am just as busy in the off season as I am during the season. Normally you have larger scale projects that you don't necessarily have time to work on or give your full attention to during the season. And so throughout the season, I just have a list that just starts building up and over time I just prioritize those. Okay, I really want to rewrite the fuel strategy program. I really want to do live metrics. I really want to do this and this. And so you work on those projects and really it's a short period of time from the end of the season to the start of the next season because you've got testing jammed in there and you've got holidays and things like that. It goes by really fast. So you have to be super focused and set deadlines. Still, even though you think like, wow, you've got a couple months or a few months, you really don't. Like you've got 10 projects that you have to get done before the start of the season. So you're like, okay, I've got to get this thing done in one week and that's all I have.
Kate Young: After walking around the paddock during a test day at the Indianapolis Motor Speedway with the Chip Ganassi Racing team, I have to admit it's largely a male dominated sport. I asked Angela about her experience being one of few women in her career field. You work in a male dominated industry. Do you find it harder to work the way up the ranks? Are you working twice as hard or do you think that as time passes, it's getting better and there's more and more women coming into this field? How has that been with your career progression?
Angela Ashmore: At the very beginning, I felt like it was more difficult to get a foot in the door. It was harder to get recognized. I definitely felt like I had to work harder to prove that I was capable and knew what I was doing, all that sort of stuff. I think part of that too is just in the back of your mind you know that you haven't seen many other women around and there's probably a reason for that. And in certain groups of people, definitely not here at Ganassi but in previous roles, there are certain people who don't want you there, to be frank. I mean, it is sad that it's still that way. I think it's good for you though because it makes you a better engineer. I think you get better at your job as you go. And then the other part that's really refreshing is that the longer I've been around, the more women I've seen, the number of females in the paddock has grown every single year. One of the really fun things we do at Indy 500 is Cara Adams, who's one of the Firestone engineers, she organizes this women, the Indy 500 photo, and we take a grid photo on race day every year. It's really fun and interesting to see how every year the picture has grown in size. And last year we had to take two pictures because there were so many of us, which is really cool.
Kate Young: It's amazing to hear the number of women in this sport is truly growing. Chip Ganassi Racing team owner, Chip Ganassi, says the team is committed to helping advance opportunities for women in the sport. And in March, 2022, Chip Ganassi and PNC Bank partnered together to announce the Women in Motorsports campaign to drive awareness and support for gender equality and economic inclusion for women in the workforce. The initiative includes a thought leadership video content series showcasing women industry leaders, and an internship designed to accelerate career pathways in motor sports for women. Angela will be included in this unique video series along with two other women who work on the Chip Ganassi Racing teams. CGR also announced the inaugural Women in Motorsports internship program. They recently selected a group of young women in college to work for the team during the 2022 IndyCar season.
Angela Ashmore: It's just meant to give some females an opportunity to get a foot in the door and get some experience in the motor sports industry, an opportunity that they might not otherwise get or might not otherwise consider, which I think is really important. Those opportunities don't come very easily. So I think it's something really great that PNC is doing and Chip Ganassi Racing is partnering with them to facilitate that. Women in Motorsports program, it looks like we may have a fellow female from Purdue engineering, which I am so excited about.
Kate Young: That's awesome.
Angela Ashmore: So yeah, I hope to see her around the building.
Kate Young: Angela says the goal of the Women in Motorsports internship program is to fully immerse these young women into the culture of professional racing and give them hands on career development experiences. And it's only natural they chose a Boilermaker to be part of this inaugural internship. Marcus Ericsson drives Chip Ganassi's No. 8 Huski Chocolate Honda. And as a driver, Angela works hand in hand with him on finding that winning strategy. The people we mainly see in the media are the IndyCar drivers themselves, but the team members working behind the scenes are the ones who set these drivers up for success each and every race. Marcus explains why the relationship between a driver and engineer is so incredibly important.
Marcus Ericsson: For us in IndyCar, we obviously drive the car, but we spend basically most of our time on the race weekends in the engineering's office trying to analyze every session and prepare for the next session. We have a lot of data logs that we go through, simulations. As a driver today, you drive the car certain amount of time, but yeah, you work a lot with your engineers to try to improve the performance. The personal relationship you have with engineers and the understanding between driver and engineer is something that's very, very important for the end result in a race weekend and in a championship. So that's why for me as a driver, that relationship that I have with my engineers is something I work on constantly and to make a difference between winning or not. And something that I feel like Angela is really bringing to the table is her dedication and work ethics. She's working very, very hard and is always very detailed in her work. She's focusing a lot on the strategy side with fuel and stuff like that that requires a lot of focus on the details. And I think she's very, very good at that.
Kate Young: As Marcus pointed out, Angela's job requires so many tiny details that all add up and it can make the difference between winning and, well, not winning. So let's get down to it. This is an episode celebrating Purdue's ties to the greatest spectacle in racing after all. What exactly does Angela do to prepare for this race? She breaks it all down for us, including the fuel strategy.
Angela Ashmore: The Indianapolis 500 is really big race. It's the biggest race of the season for us and for everyone really, but I treat the 500 just like any other race. I give it the same level of attention to detail. I go through every scenario that could happen, every point where the yellow falls or could fall, all the same scenarios. So it's really the same, but the difference for that race is it's much longer. So there are a lot more pit stops and it opens up your strategy a lot more because there's more choices during the race as far as when you can pit and how far you want to go into that stint. Part of doing fuel strategy is trying to mitigate risk. Hopefully you have a good idea upfront. There's always a risk reward and when you make a decision, you kind of know what that trade off is in advance. So we tend not to make decisions that are very high risk for the potential reward. I know Nashville last year, we ranked early on and that was a really tight fuel race for us. It wasn't necessarily a risky strategy but it was a very high fuel save race and that took a lot of management on the fuel strategy. And so that was one of the ones that sticks out in my mind that paid off in the end because we won that race and we were off strategy because of a wreck that we were in early in the race.
Kate Young: Marcus previously competed in Formula 1 between 2014 and 2018 before he debuted in IndyCar in 2019. In 2021, Marcus scored his first IndyCar win in Detroit. What does it feel like for the Chip Ganassi team when all of their hard work pays off?
Angela Ashmore: It is just indescribable. For me, like last year at Detroit, it was my first ever win and it felt like something I had been working toward my entire life. There were so many times that we were so close to winning or should have won and something small happened and we didn't. The number of things that have to go right for you to win a race is unimaginable. And when it finally comes together, it's like you almost can't believe it. And then you've got this group of people who you spend so much time around and they're almost like family because you travel with them week in and week out and you spend all day with them at the shop every day. To celebrate with them, it's a big deal.
Kate Young: Marcus and the team won another race in Nashville in August, 2021 at the inaugural Music City Grand Prix with his Chip Ganassi teammate, Scott Dixon, finishing second. Marcus ended the 2021 season in sixth place in the Driver's Championship. And during this 2022 season, Marcus got in the podium placing third at the Texas Motor Speedway. So what would it mean to Marcus to win the Indy 500 and to drink that milk which, by the way, has been provided by two Purdue dairy farmers during the past two years?
Marcus Ericsson: Everyone that's going to go here in May and drive, it's a dream for everyone to win the Indy 500. It's a race that's the biggest race in the world I would say and to win it, it's something that you work towards certainly all your career. So it would mean everything.
Kate Young: As we've heard, Angela's giant leap into professional racing came after relentless persistence and perseverance. As for Angela's next giant leap, she's aiming for an Indianapolis 500 win.
Angela Ashmore: There's a lot of special races throughout the IndyCar circuit, but the Indy 500 is kind of the pinnacle, right?
Kate Young: That's the one, yeah.
Angela Ashmore: Yeah.
Kate Young: What is it like preparing for that race?
Angela Ashmore: It is incredibly stressful preparing for that race. There is no stone unturned to end. Even simple things that are easy and you don't give a second thought on any other race weekend, you'll question 100 times before you go into that race. The amount of preparation is just incredible and the amount of attention to detail and time that you spend on that one race is far and away more than any other race of the season.
Kate Young: What's the excitement like that day?
Angela Ashmore: So my first year was 2020, and that was the year without fans. I will never forget it because I've been to the race as a fan and the excitement is palpable.( Singing). All of the pomp and circumstance and like cheering back home in Indiana and the pretty marching band coming and doing the walk down pit lane, all that stuff is just like an entire day of build up. And then that first year I went and it was just completely silent. Running a race in complete silence was something I will never forget because it was so strange.
Kate Young: Oh, I'm sure.
Angela Ashmore: And then last year we had a limited capacity. So it wasn't really like the Indy 500. It wasn't normal Indy 500. So really this year is going to be my first full- fledged Indy 500 as a participant.
Kate Young: We will certainly be rooting for Angela and that No. 8 Chip Ganassi Racing Huski Chocolate Honda at the Indy 500. Angela reflects back once again on how Purdue helped her achieve her small steps and giant leaps. When you look back at your time at Purdue, why do you think Purdue's so unique and how did that set you up for something as unique as this job?
Angela Ashmore: The thing about Purdue is the engineering program is just so good. It's nationally ranked, it's really well respected. It doesn't matter where you go, you can say Purdue and people know what it is, what it stands for and how good of a school it is. It's instant respect. If you made it through the Purdue program, then people know what you're about. Having a Purdue degree, it's part of my identity really. It's just an excellent school.
Kate Young: What does the community and that Boilermaker spirit mean to you?
Angela Ashmore: Just that you can connect with someone no matter where you are. It wouldn't matter if I moved to Canada. I bet you, whatever town I was in, I could find someone who went to Purdue. You can always find someone from Purdue and there's always just like a mutual respect because you both kind of know where you came from.
Speaker 4: Drivers, start your engine.
Kate Young: If you'd like to watch our full video interview with Angela at Chip Ganassi Racing headquarters in Indianapolis, head on over to youtube. com/ purdue. And in the meantime, we'll leave you with some of Angela's This is Purdue rapid fire questions. Okay. We are going to do a few rapid fire questions, but they're really easy. They're about Purdue. This is the first time I'm doing this, so I'm testing it with you.
Angela Ashmore: Okay.
Kate Young: Okay. What's your favorite spot on campus and why?
Angela Ashmore: Ooh, the clap circle. I love the clap circle.
Kate Young: That's a favorite. I would not be able to think of something that fast. Favorite Boilermaker tradition.
Angela Ashmore: Ooh, running the fountains.
Kate Young: What's your next small step or giant leap personally or professionally?
Angela Ashmore: Winning the Indy 500 this year, I hope.
Kate Young: God, I love that answer. Thanks for listening to This is Purdue. For more information on this episode, visit our website at purdue. edu/ podcast. There you can head over to your favorite podcast app to subscribe and leave us a review. And as always, boiler up.
DESCRIPTION
In this episode of "This Is Purdue," we're talking to IndyCar engineer Angela Ashmore.  
Angela, an engineer for Chip Ganassi Racing's No. 8 Huski Chocolate Honda, is a lifelong motorsports fan. Her giant leap into professional racing came after relentless persistence and perseverance. 
Listen in as Angela discusses her experience with Purdue's Formula Society of Automotive Engineers (SAE) student club, how the problem-solving techniques she learned at Purdue's School of Mechanical Engineering helped propel her career and a shift from working in NASCAR to IndyCar.  
Also, hear why Marcus Ericsson, IndyCar driver for CGR's No. 8 Huski Chocolate Honda, believes Angela serves as a role model for other women in STEM and the professional motorsports world.  
As for Angela's next giant leap? She's aiming for an Indianapolis 500 win! 
Today's Host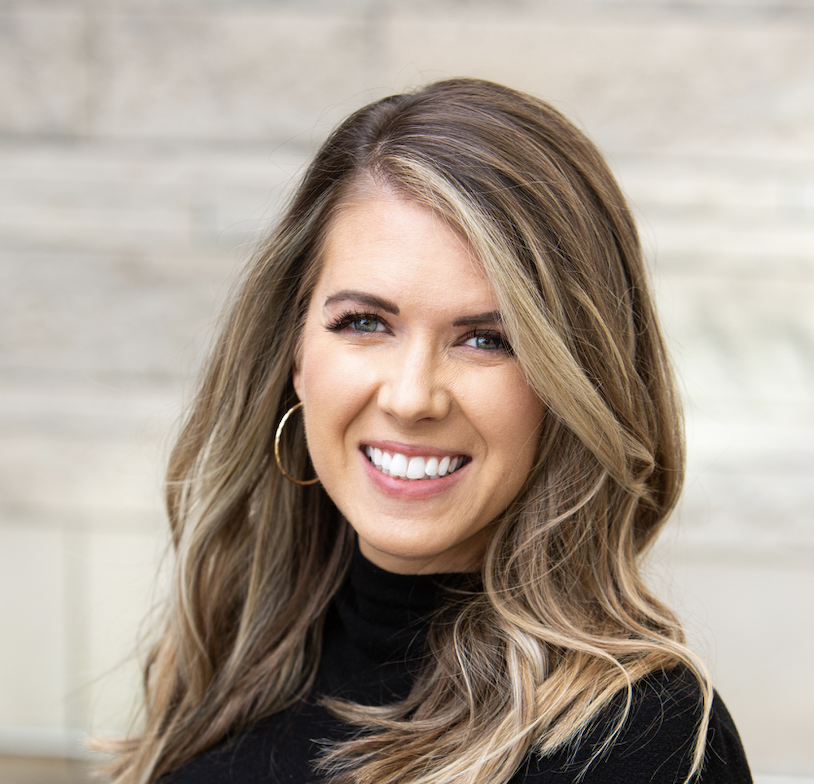 Kate Young
|
Digital Content Strategist + Host, This is Purdue Podcast
---
Today's Guests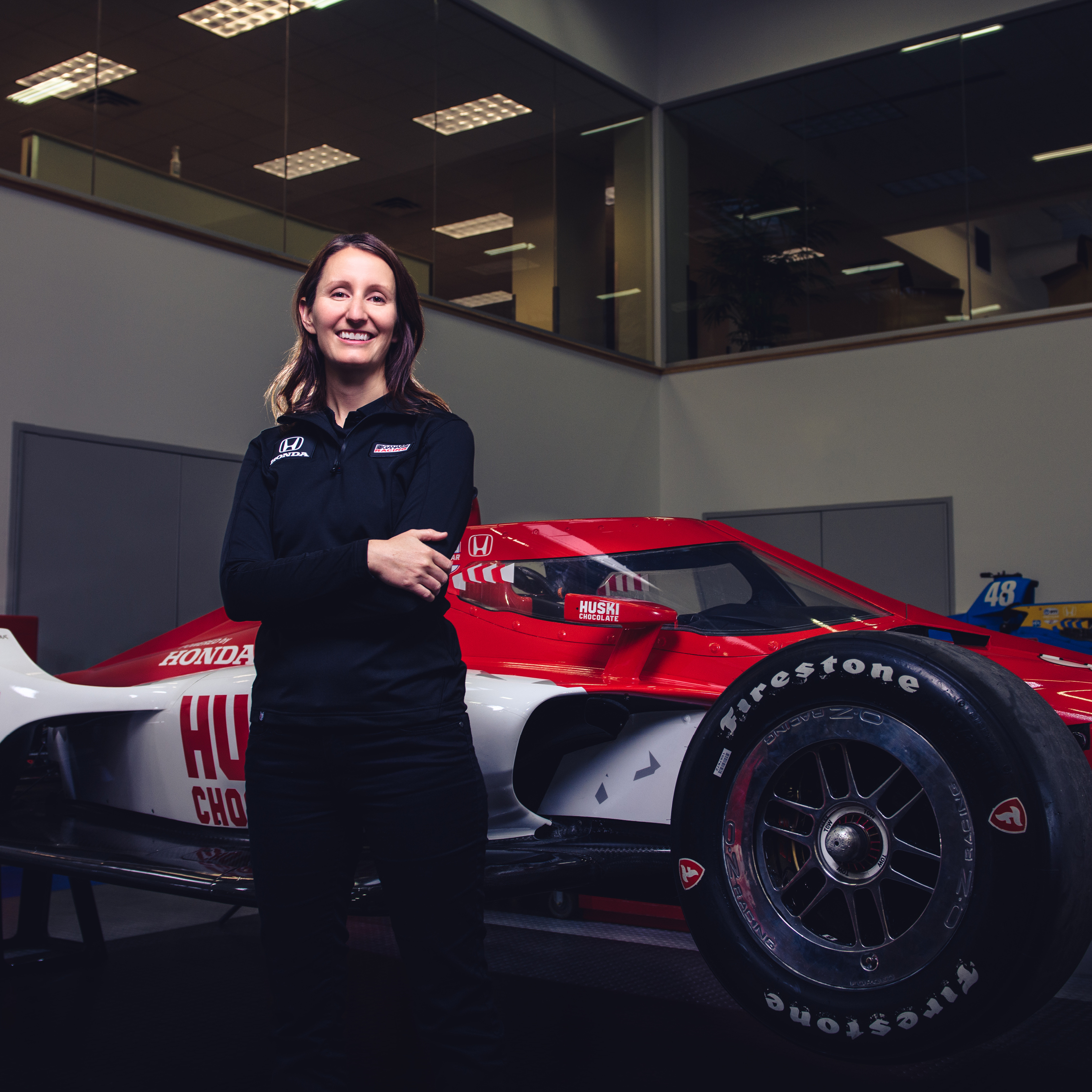 Angela Ashmore
|
Engineer, Chip Ganassi Racing's No. 8 Huski Chocolate Honda, NTT IndyCar Series
Lifelong racing fan Angela Ashmore (BSME '10, MSME '13 at Purdue) is an engineer for Chip Ganassi Racing's No. 8 Huski Chocolate Honda in the NTT IndyCar Series.