Episode 107: Creating high trust in a high-tech world
This is a podcast episode titled, Episode 107: Creating high trust in a high-tech world. The summary for this episode is: <p>Trust. It's the foundation of—well—pretty much everything when it comes to relationships, including those between an FI and its members or customers.&nbsp;&nbsp;</p><p><br></p><p>We were thrilled to sit down and learn from one of the world's greatest experts on creating high trust in a high-tech world. Todd Duncan is a Best-Selling Author, a Sales Entrepreneur with 5 million clients world-wide, and our honored guest this week on CRMNEXT's <strong>Banking on Experience</strong> podcast.&nbsp;</p><p><br></p><p>If you've never had the opportunity to learn from Duncan—we implore you—get ready to take notes and brace yourself for some mind-blowing insight.&nbsp;</p><p><br></p><p>Topics we cover include:</p><ul><li>Biggest mistakes when it comes to tech &amp; trust</li><li>Todd's take on the 'talk less/sell more' mindset</li><li>The power of emotional connection: how FIs can create true "wow" moments</li><li>4 things about FIs and marketing that everybody needs to hear</li><li>Bridging marketing and high-touch emotional connection</li><li>Net Promoter Score and the Customer Journey</li><li>The role of convenience</li><li>Changing the world (yes, really)&nbsp;</li><li>And more&nbsp;</li></ul><p><br></p><p><em>Stay in touch with Banking on Experience by listening on </em><a href="https://podcasts.apple.com/us/podcast/banking-on-experience/id1505808264" rel="noopener noreferrer" target="_blank"><em>Apple Podcasts</em></a><em>, </em><a href="https://open.spotify.com/show/0SsuALIiOHsDCQSLYcH0nb" rel="noopener noreferrer" target="_blank"><em>Spotify</em></a><em>, or our </em><a href="https://go.crmnext.com/content-library/" rel="noopener noreferrer" target="_blank"><em>website</em></a><em>.</em></p><p><em>Listening on a desktop &amp; can't see the links? Just search for Banking on Experience in your favorite podcast player.</em></p><p><br></p>
DESCRIPTION
Trust. It's the foundation of—well—pretty much everything when it comes to relationships, including those between an FI and its members or customers.  
We were thrilled to sit down and learn from one of the world's greatest experts on creating high trust in a high-tech world. Todd Duncan is a Best-Selling Author, a Sales Entrepreneur with 5 million clients world-wide, and our honored guest this week on CRMNEXT's Banking on Experience podcast. 
If you've never had the opportunity to learn from Duncan—we implore you—get ready to take notes and brace yourself for some mind-blowing insight. 
Topics we cover include:
Biggest mistakes when it comes to tech & trust
Todd's take on the 'talk less/sell more' mindset
The power of emotional connection: how FIs can create true "wow" moments
4 things about FIs and marketing that everybody needs to hear
Bridging marketing and high-touch emotional connection
Net Promoter Score and the Customer Journey
The role of convenience
Changing the world (yes, really) 
And more 
Stay in touch with Banking on Experience by listening on Apple Podcasts, Spotify, or our website.
Listening on a desktop & can't see the links? Just search for Banking on Experience in your favorite podcast player.
Today's Guests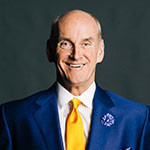 Todd Duncan
|
Best-Selling Author, Sales Entrepreneur
The world's #1 authority on Sales, equipping people with strategies around growth, relationships, performance, business and life transformation! I built an incredibly successful real estate and mortgage business before committing my life to helping others do the same. As an author of 17 books, and no stranger to the New York Times best-seller list, I help people fall in love with their business and life by teaching how to succeed through building the right relationships built on the most important factor - TRUST. Author of: - High Trust Selling - Time Traps: Proven Strategies for Swamped Salespeople - 5 Stars: Building High Ratings and High Trust in the Digital Age - 10 Golden Rules of Customer Service - The $6,000 Egg - Killing the Sales: 10 Fatal Mistakes Salespeople Make and How to Avoid Them - Wealth Strategies: Steps to Achieving Physical, Financial and Spiritual Abundance - Life By Design Building the Future of Your Dreams - Life on the Wire: Avoid Burnout and Succeed in Work and Life - The Power to Be Your Best! Follow me on all social channels at: @ToddDuncanOfficial Learn more and download Free resources at www.toddduncan.com
LinkedIn